Defoamer
Carpet Defoamer, Anti-Foam Solution
Anti-foaming liquids for carpet cleaners are used to prevent foam build-up or suppress existing foam during carpet cleaning operations. Excess foam can build up in extraction tanks, shampooer lines, and even on the carpet surface. They are typically used in portables, truck mount units and wet vacuum units.
DO I NEED TO USE A CARPET DEFOAMING SOLUTION:

- Foam can prevent carpet bonnets from absorbing the dirt and soil in carpet fibers.
- Foam in recovery tanks can cause tanks to be emptied prematurely.
- Moisture from foam will rust and damage the vacuum motor and armature, reducing performance and life span of equipment.
CarpetGeneral Carpet Defoamer 5814 eliminates these problems making the carpet cleaning process easier, faster and much more efficient.
WHEN TO USE CARPET DEFOAMER:
A
n anti-foam liquid for carpet cleaners is necessary if you've previously used high foaming shampoos, or if any spray on products were used on the carpet
.
HOW TO REDUCE FOAM IN CARPET CLEANING MACHINES:
Using CarpetGeneral Carpet Defoamer 5814, at the proper dilution, will literally eliminate the foam in the carpet on contact, making the job easier and much more effective.
HOW TO MAKE CARPET DEFOAMER FOR CARPET CLEANER:
Homemade carpet defoamer recipes can be found all over the internet, but are these defoamer substitutes safe? Research suggests no. Equipment manufacturers routinely recommend AGAINST homemade substitutes. Ignoring your manufacturer's recommendations will void your warranty and could damage your equipment.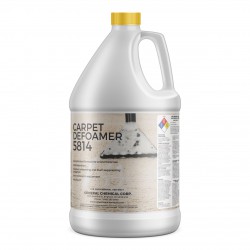 $45.00
The Best Carpet Cleaning Defoamer Is Brought To You By CarpetGeneral, ...