Hand Cleaner
AutoGeneral True Grit Hand Cleaner :Warm weather means outside activities, including gardening, yard work, sports, and full-time ranching— dirty" business. Then you can understand the dust, grit, and grime that parallel these activities. AutoGeneral True Grit Hand Cleaner is the answer.

Hand Cleaner With Pumice is a premium, heavy-duty lotion industrial hand cleaner effective for removing the toughest soils. Fine-ground, American pumice works with the hand cleaner's cherry-scented formula to provide fast and complete removal of grease, most inks, tar, asphalt, oils, lubricants, paints, industrial carbon and more. True Grit is primarily a hand cleaner however, our customers have been providing us feedback on other uses such as:

Cleaning tennis shoes and golf equipment.
Used with a soft sponge to get out that oil stain/build up in coffee pots and coffee mugs.
Description: AutoGeneral® True Grit Hand Cleaner has been formulated to handle the toughest grease and grime. It excels and emulsifying oil and grease, and includes mild skin conditioners to protect against chapped hands. It also contains grit for additional scrubbing action.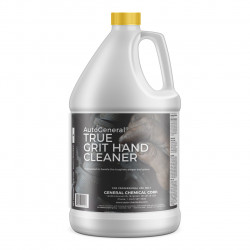 $24.00
Get Your Hands Clean & In Tip-Top Condition - Starting Today!  Are yo...