Roof Cleaner
Should you wash a roof?
The answer is YES! Roof cleaning chemicals extend the life of your roof. Dirt and contaminants on your roof can make shingles curl upward, which makes them more likely to blow off in the wind or let in rain causing water damage.
What Can I Use to clean my Roof?
What cleaners do professionals use to clean a tile or shingles roof? Power Roof Cleaner! Our roof treatment is strong enough for a professional roof cleaning company, while easy and safe enough for a DIY roof cleaner solution!
How to Clean a roof?
First step: SAFETY FIRST! Make sure you can safely climb and walk on the roof's surface. Wear well fitting, slip resistant shoes and proper eye and skin protection. Clear any large debris from roof surface.
Second step: Look at the Sky! We recommend cleaning on a cloudy day, when the wind isn't blowing and there's no chance of rain. (Cleaning your roof on a sunny day can cause the solution to evaporate too quickly, limiting its effects)

Third: Prepare Your Materials. Prepare your bleach solution and add the Power Roof Cleaner to your shingles or tile roof, as instructed. (TIP: Pre wet areas with landscaping, plants, or shrubs to help prevent damage from over spray. Alternatively, cover these areas.)
Last: Clean Your Roof. Apply solution with a low pressure sprayer. (Power washing and other high pressure sprayers can damage shingles.) Allow the solution to sit for 7-15 minutes and spray roof with a garden hose.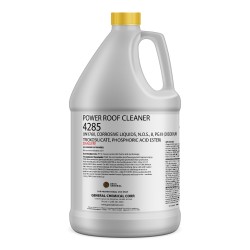 $30.00
Concentrated Roof Cleaning Solution