Shampoos & Detergents
It is important to keep carpets clean. Carpets help purify the environment by accumulating particulates and gasses from the soles of the people who walk over them as well as from the surrounding atmosphere. Soiled carpets however are not aesthetically appealing and wear poorly. Left uncleaned they will eventually release particulates and gasses back into the air. In closed circulation buildings, heavily soiled carpets will cease to help clean the environment and may become a source of air pollution and could contribute to health problems.

Description
Carpet cleaning and maintenance programs have a direct impact on carpet appearance and performance. Proper cleaning and maintenance can keep carpets looking new and beautiful and extend their lifespan. Well maintained carpets absorb soil and gas and contribute to a healthier indoor environment. Conversely, poor cleaning and maintenance can cause carpets to look old and dirty long before they wear out and may pollute the surrounding atmosphere. Additionally, modern carpets which have been pre-treated with soil and stain retardants require special treatment to properly clean them while maintaining their soil and stain resistance.
Carpet cleaning and maintenance conventionally involves the application of a detergent solution to the carpet followed by extraction. Detergents, however, only attack water-soluble dirt. Therefore, when water-insoluble materials, such as grease, are present in the carpet, organic solvents must also be applied and extracted.
Carpet Extraction Detergent 3947 is a highly concentrated extraction cleaner that goes deep into the fibers of the carpet to extract dirt build-up, without damaging the fibers. 3947 is so concentrated that you can do up to 25% more jobs per pail and in less time.
Carpet Extraction Detergent 3947 liquid extraction cleaner is a highly concentrated emulsifier for use with hot water extraction or steam cleaning machines.
Carpet Extraction Detergent 3947 loosens carpet soil so that it is easily picked up by the vacuum. The soils are carried to the recovery tank of a self-contained hot water extractor or to the dump site of a direct hook-up machine.
Carpet Extraction Detergent 3947 is a liquid extraction cleaner that mixes easily with hot water. At operating temperatures above 120 degrees this product will produce minimal foam.
This gentle detergent is safe to use on all carpet fibers. It will not leave a sticky residue to mask fabric sheen and promote re-soiling.
Carpet Extraction Detergent 3947 cleaner cleans thoroughly and sharpens colors to restore original beauty. Carpet Protector can be sprayed onto the clean carpet to reduce soiling during normal use and the need for frequent cleaning.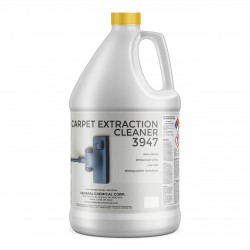 $21.00
Discover The Most Powerful Carpet Extractor Cleaner On The Market  Ar...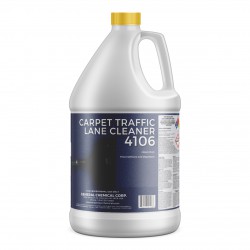 $14.00
For Heavy Duty Cleaning & Persistent Stains… CarpetGeneral Cleaner T...