Deck Restorer
Deck Wood restoration
DeckGeneral Wood Restorer Concentrate is used to remove gray, tannin, and rust marks from a wood surface. Gray and/or black are the natural colors of the exterior of dead wood. It becomes gray because ultraviolet rays from the sun kill the top layer of cells, leaving the wood left behind looking lifeless and dull.

For maximum results, use DeckGeneral Wood Brightener as the final step to neutralize and brighten wood surfaces that have been treated or cleaned with DeckGeneral Wood Restorer.
BENEFITS OF wood restorer:
- Restore the Natural Beauty of Exterior Surfaces
- Help Stains Penetrate Better and Last Longer
- Concentrated Formula


WHY DECKGENERAL:
If you are looking for the Highest Grade Deck Cleaners, Deck Strippers and Brick Paver/Concrete Sealers, you are at the right place. We are committed to bringing professional grade wood deck restorers and refinishers, sealing, cleaning products, and other resurfacing options to the homeowners and professionals alike at reasonable prices and quick shipping.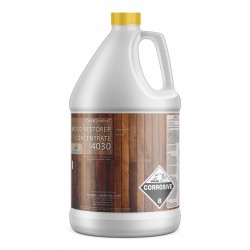 $8.10
Here's The Dad-Approved Wood Restorer Concentrate That Will Bring Ne...