Vinyl Siding Cleaner
DeckGeneral® Vinyl Siding Cleaner 50162 is a unique concentrated siding cleaner that is biodegradable, nonflammable, and low VOC. This vinyl house siding cleaner contains a blend of specialty surfactants, detergents, and emulsifiers that effectively penetrate the toughest stains from dirt, oil, grease, and bird droppings. Its thickened formulation provides excellent vertical retention, which increases the products contact time on the soiled surface.
DeckGeneral® Vinyl Siding Cleaner 50162 is safe, fast, and effective on roofing, gutters, fencing, stucco, bricks, cement block, masonry, concrete, driveways, walkways and walls, and even patio furniture. DeckGeneral® Vinyl Siding Cleaner 50162 is eco-friendly and does not contain petroleum solvents, bleach, or ammonia.
Introduction
Cleaning vinyl siding is no different than washing a car. It is that simple.
Trees and bushes produce airborne sugars that drift through the wind and stick to vinyl siding. This nearly invisible layer of sugar is a food source for mold and some algae. Dust and dirt can also stick to the vertical sides of vinyl siding, and these are also food sources for some mildews and algae.
The best way to clean vinyl siding is to rinse it down with a regular garden hose equipped with a nozzle. Set the nozzle to a medium misting spray. Never use a forceful direct stream of water, as it can penetrate behind the vinyl siding. There are many homes covered with vinyl siding that do not have waterproof membranes that cover the frame walls. The wood sheathing and framing lumber can get wet easily if you direct water at the edges of vinyl siding, seams where two pieces of siding overlap, at inside and outside corners and next to windows and doors.
Vinyl siding is designed to shed water falling from the sky, not water that is shot up from the ground. Always rinse off the siding pointing the hose down towards the ground. Never aim a hose up at vinyl siding as it can cause massive amounts of water to seep behind the siding.
Our eco-friendly Vinyl Siding Cleaner 50162 will do a fantastic job of cleaning vinyl house siding. Squeeze a generous amount in a bucket, and add warm water to make a frothy mix of soapy water.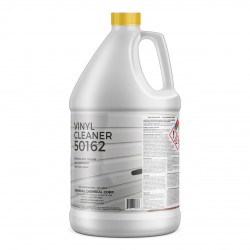 $16.00
Here's The Ultimate Home Siding Cleaner That Will Help You Save Time...