Fabric Rinses
Carpet Rinse, Fabric Rinse A rinsing liquid for use on fabric, preferably immediately after it has been cleaned with detergent. Carpet Fiber Rinse relates to a fabric rinsing liquid for use on carpet or upholstery fabric which has just been cleaned with a detergent, and to a method of treating such fabric by rinsing it with this liquid after cleaning it with a detergent.

Description
One of the problems in using detergent to clean carpets, rugs or upholstery fabric is the difficulty of removing the detergent residue sufficiently. The detergent residue tends to make the fabric susceptible to soiling after it has been cleaned, possibly due to an undesirable wicking effect of the detergent residue on the fibers of the fabric.
The present carpet cleaning or fabric rinse enhances the removal of the detergent residue, neutralizes the alkalinity of the detergent residue, and acts as a dye fastener on the fabric.
$12.00
Prevent Carpet Browning & Bleeding Like A Pro With Our Ultimate Fiber ...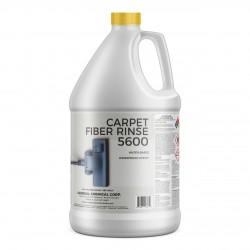 $19.00
Discover The Safe & Effective Way To Make Sure That Your Carpet Is Spo...