Warm Or Shell Box Mold Release Agents
Warm or Shell Mold Release Agent composition to facilitate separation of patterns and core boxes from foundry molds and cores. Many industrial operations require the use of release agents or sprays for molds to reduce the tendency of a molded product to stick to the mold, or that of a tool, die or machine part to stick to the work piece. In foundry operations, metal parts are frequently made using "sand casting" methods wherein disposable foundry shapes, such as molds and cores, are fabricated with a mixture of sand and an organic or inorganic binder, sometimes referred to as a "foundry mix". Molds and cores are produced by chemical or heat hardening of the mixture of sand and binder onto a pattern or core box. Sometimes a catalyst is used to cure the foundry mix more rapidly. A Mold Release Agent or spray agent is used to reduce or eliminate adhesion of a mold to a pattern or core box surface.
Description

Warm or Shell Mold Release Agent, Foundry Mold Release Agent
Various processes, such as, for example, the air-set or no-bake process, the carbon dioxide process, the cold box process, hot box processes, and similar mold manufacturing processes are well known. In these processes, sand and binder mixture is molded upon patterns or in core boxes. The patterns may be constructed from plastic, wood, or metal. Typical metals are aluminum and cast iron. Other materials may also be used. In the no-bake process, the sand/binder mixture, or foundry mix, contains a catalyst, so the mixture will cure rapidly without additional reagents. Heat may be added if desired in some processes to increase the cure rate. The foundry mix is shaped by compacting it in a pattern and allowing it to cure, so that the mix is self-supporting. The composition of the foundry mix, including any catalyst, must be such as to allow adequate work time to allow shaping before the mixture hardens.
Mold Release Agents are typically sprayed or brushed onto a pattern or core box surface periodically during pattern or core preparation. The Mold Release Agent can be an emulsion or dispersion spray. If dispersed in a solvent, the solvent serves to wet the surface of a shape-determining mold, onto which the release agent is applied. It is highly desirable to reuse the same pattern or core box many times, to generate a number of molds from the same pattern or core box. Therefore, it is important for the pattern or core to be quickly and cleanly released from the finished molds with a minimum amount of release agent.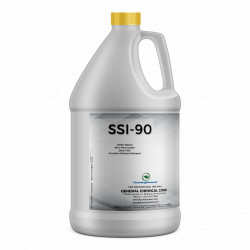 $58.16
FoundryGeneral® Mold Release 90 is a zero VOC water emulsion suitable...