Carpet Stain Protector

Stain Guard Carpet Treatment
Dirt and stains cling to untreated carpet and quickly become embedded in the fibers; stain protection spray creates a powerful invisible shield around the carpet's fibers to keep dirt from lodging within the carpet. CarpetGeneral Stain Guard provides superior repellency and outstanding soil protection for all types of residential carpet. Designed to replace or enhance any of the built-in stain resist properties of the carpet that may have been removed during the wet cleaning process or worn off by normal abrasion (foot traffic, vacuuming, etc.)
BENEFITS OF CARPET STAIN GUARD:
- helps carpets stay cleaner, brighter, newer, and fresher through all kinds of daily wear
- protects against wet and dry soils
- doesn't change look or feel of carpet
- provides extra time to clean up spills, minimizes wicking and the spreading of stains
- CFC- and solvent- free; leaves behind no unpleasant odor.
WHEN TO USE STAIN PROTECTOR SPRAY:
We recommend the application of CarpetGeneral Carpet Stain Guard after each cleaning, on all carpet types, even those with built-in soil and stain protection.
HOW TO STAIN GUARD CARPET:
1. Spray CarpetGeneral Stain Guard to provide protection for carpets and rugs, upholstery, auto mats, and more.
2. Let it dry.
3. Enjoy protection from spills and stains!
USE CARPET STAIN REPELLENT ON:
- residential and commercial carpets and rugs
- water safe upholstery and drapery
- car carpet
- bath mats
- more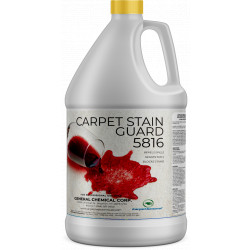 $48.00
Carpet Stain Guard is a ready to use water based carpet and upholstery...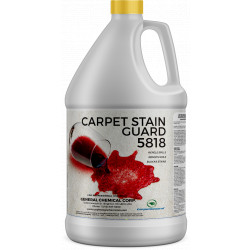 $90.00
CarpetGeneral Carpet Stain Guard 5818 is a concentrated carpet and uph...