Bonnet Cleaning
Carpet Bonnet Cleaning, Spin Bonnet Cleaning
Bonnet cleaning or spin bonnet cleaning is a maintenance cleaning technique used in commercial floor and carpet cleaning situations. It is a low-moisture technique. Bonnet cleaning only cleans the top layer of carpet fibers- it is surface cleaning. It does not clean deep down, like shampooing or extraction cleaning.
Benefits of Carpet and Floor Spin Bonnet Cleaning:

- Speed: Carpet dries quick, allowing for businesses to remain operational.
- Ease: Equipment and supplies are easy to acquire and maneuver.
- Inexpensive: Equipment and supply costs are low and doesn't require highly skilled labor.
When to Use Bonnet Cleaning:
- For spot cleaning in between extraction cleanings, especially in high traffic areas.
- When there is not enough time to use truck mount system. Spin bonnet cleaning will still help lengthen the life of carpet or floor, and will outweigh the cost of having to replace sooner.
- When carpets have a history of being exclusively bonnet cleaned. Because bonnet cleaning pushes a lot of dirt down into the carpet fibers, switching to extraction cleaning may cause stains to appear when the impacted dirt is lifted up.

Directions for Carpet and Floor Spin Bonnet Cleaning
There are two methods of application of the Carpet Bonnet cleaning solution.
1. A round absorbent bonnet is prepared before actual cleaning by either immersing it with water or wringing it out so it isn't dripping wet and heavily soiled areas are directly sprayed with CarpetGeneral Carpet Bonnet Cleaner 5857 at no more than 200 square feet per gallon.

2. The bonnet is immersed into CarpetGeneral Carpet Bonnet Cleaner 5857 and squeezed out so it isn't dripping wet. The rotating absorbent bonnet (usually cotton or rayon) is then attached to a low speed (175 RPM) rotary floor machine with a heavy-duty motor because of the high friction involved. A special drive block is required to keep the bonnet or pad from slipping off. Dirt is theoretically collected into the pad.

The bonnet is supposed to be changed or turned when the pad surface stops absorbing soil – this is usually up to 600 square feet per bonnet side. The bonnet is then washed out and reused as needed. Sometimes, carbonated water is used to (in theory) give better soil suspension and bring down the pH.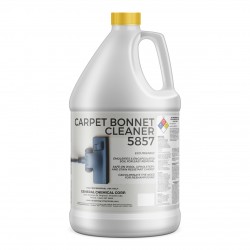 $30.00
Bonnet cleaning is an maintenance cleaning technique used in commercia...