Deck Cleaners
 Our wood deck cleaner products are a must before staining or sealing. Flowers and grass tend to surround almost every deck, and those of you that have had a bad experience with toxic deck cleaners will appreciate the fact that our deck cleaner will not harm your landscaping. In fact, the products life is only 4 -6 hours before it biodegrades back into water. That is what makes our wood deck cleaner the greenest on the planet. You will not find bleach, chlorine or phosphates in our deck cleaners, our cleaners are SAFE, GREEN and EFFECTIVE, try it.
Description
Use a wide angle pressure washer to completely remove dirt, mildew and cleaner residue. After the deck is free from existing stain or sealant, clean it. (If you didn't have to strip the deck, this will be your first step.) When looking at deck detergents, you'll probably find one of these active ingredients:
Chlorine bleach, which appears on the label as sodium hypochlorite, calcium hypochlorite or dichloroisocyanurate. These chemicals do a good job getting rid of mildew, but they are less effective at removing dirt. They are usually mixed in with other ingredients. Chlorine bleach products can be harsh on wood if used improperly, causing fuzzing and uneven coloration. Use a chlorine bleach product if you have a mildew problem, but be careful not to mix it any stronger than the manufacturer recommends. Also, rinse well.
Oxalic acid, which usually will be listed that way in the ingredients list. Our deck cleaners' oxalic acids are particularly effective at removing tannin stains and iron stains — a particular consideration with cedar and redwood decks. Oxalic acid is not as effective against mildew.  If you have a mildew problem, try a deck cleaner product made with bleach before using oxalic acid to attack the tannin and iron stains.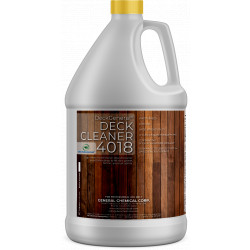 $11.49
Here's The #1 Exterior Wood Cleaner That Will Make Your Life Easier ...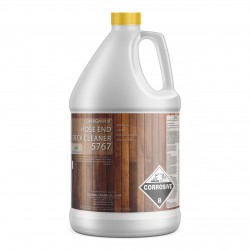 $20.99
Restore Your Deck To Its Full Might! DeckGeneral's Deck Cleaner is an ...